Team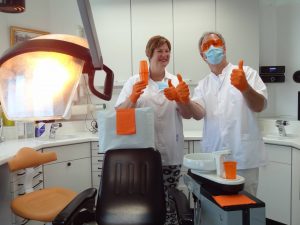 Drs.  Jan Mathijssen, dentist general practitioner (graduated at Radboud University Nijmegen) is up-to-date with the latest techniques being used in dentistry, and uses the latest equipment to maximise your comfort when delivering a range of procedures. In particular, we have painless  ways of treatment and removing teeth. We strive to conserve teeth, supporting bone and gum tissue during your whole lifespan. Drs.  Jan Mathijssen has a special interest in extensive reconstruction with crowns and bridges, cosmetic dentistry including porcelain veneers, white fillings and professional tooth whitening.
Recognising the importance of continuing professional development  dentist Jan Mathijssen regularly attends different courses in restorative treatments in order to stay up to date with highest standards in dentistry. He is well known for being patient and caring towards his patients.
A single dentist practice gives you the benefit that you are always treated by the same dentist who knows your dental history , your medical history and your specific wishes so that he can give you the best personal professional treatment advice.
Our committed team is managed by Mrs Astrid Mathijssen, who also works as a dental auxilliary (prevention-assistant).
The prevention assistant removes calculus and dental plaque, polishes teeth, gives fluoride treatment, checks and monitors on pockets of the gum and gives instructions on dental hygiene.
We are an accredited training location for dental nurse students from the Zeeland Healthcare Training School Scalda and the School for Dental Hygienists at Artevelde Hogeschool Gent Belgium.